Surroundings
Vresse-sur-Semois is not far from the touristic towns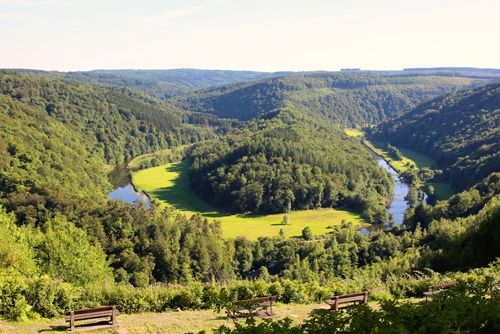 of Bouillon and Sedan where the famous castles are worth the visit.
By walking the many hiking trails and mountain bike circuits that crisscross the region, you will discover the magnificent flora and fauna of the Ardennes. "Mother Nature" can also be admired along the water by
kayaking down the Semois.
To the delight of the walkers, fishermen and riders,
there are several small streams that flow into the Semois, an enchanting river with history.
Many artists and painters found their inspiration in
Vresse and have set their easels on the banks of the Semois in this picturesque village.
The village and the surrounding area are enlivened by many activities such as flea markets, big fires, concerts, exhibitions, guided walks, squall of the deer, gourmet walks, ....
Follow our news to book your accommodation on time!
Here are some restaurants in the area that we advise you:
- La Riviera: italian restaurant serving pizzas cooked over a wood fire, various pasta, fish, meat, ... (just over the street)
- La table de Maxime: gastronomic restaurant (2 stars) in Our.
- Les Terrasses de l'Our: bistronomy restaurant from the same owner than "La Table de Maxime", also in Our.
- Panorama: gastronomic restaurant with a terrace sight above the castle and the city of Bouillon.
- L'Auberge de la Ferme: has several restaurants in Rochehaut whose gastronomic restaurant of l'Auberge de la Ferme, la Taverne de la Fermette specialised in local dishes and the Point de Vue, tea-room/resto/pub/cocktail bar combining products from here and elsewhere in the composition of their plates (to share, or not).
- Le Roy Gourmand: local restaurant in Alle-sur-Semois where you will find grilled/roasted meats, fish, local stew dishes, jumbo mussels from Zeeland,...
- Le Clos de la Palette: specialties of grilled meat on a wood fire, brazerades, reblochonnades, ... in Alle-sur-Semois.
-A Table: local platters in Alle-sur-Semois
- Le Fief de Liboichant: gastronomic warmhearted restaurant in Alle-sur-Semois serving local dishes, French cuisine with fresh seasonal products and sometimes organising thematic weekends.